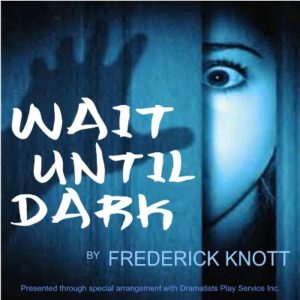 Evening (7:30 pm):
June 22, July 5, 15, 20, 28, 29,
August 3, 7, 8, 17
Matinee (2:00 pm):
June 28, July 6, 16, August 17
A sinister con man and two ex-convicts are about to meet their match. They have traced the location of a mysterious doll, which they are much interested in, to the Greenwich Village apartment of Sam Hendrix and his blind, vulnerable wife, Susy. Why do they want the doll and why is Sam being accused of murder? When one of the men kills his associates, a deadly game of cat and mouse ensues between him and Susy. She is trapped in her apartment and realizes the only way to play fair is to play by her rules – so when darkness falls she turns off all the lights to even the playing field.
This masterfully constructed thriller moves from one moment of suspense to another as it builds toward an electrifying, breath-stopping final scene.