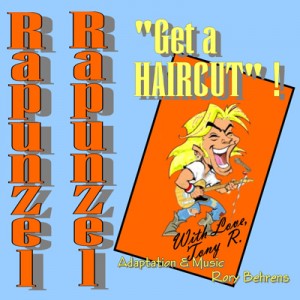 FAMILY SHOW only $5 per person!
Tuesdays at 11:00 am
June 28, July 5, 12, 19, 26,
August 2, 9, 16
Rapunzel. Trapped in a tower by a witch, waiting to be freed by some random hero. Sounds like the same age old story, right? Almost.
Meet Tony Rapunzel, your average wanna-be musician. He's hiding in a tower from his mother who wants him to "get a haircut and get a job", and the army of barbers she has dispatched to find him. Add into this mix a stubborn Prince convinced Tony is a SHE, a wandering minstrel in the wrong fairy tale, and a mysterious girl with a secret or two of her own, and you've got the makings of a musical with laughs, gaffs and even a moral you'll be whistling all the way home. This family musical is adapted by our own Rory Behrens.