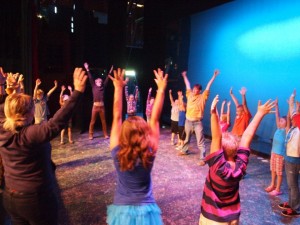 InterACT with ASD: Social Theatre Workshops Sponsored by and offered at Tommy O's Playhouse
Tommy O's Playhouse Inc., a non-profit organization located in Hazelhurst, WI, is setting the stage to shine a spotlight on Autism Spectrum Disorder (ASD) this summer, launching "interACT with ASD: social theatre workshops".
The innovative social skills program will be offered to any child with autism, as well as friends and family members – with no cost to participants. Space is limited and advance registration is required.
Workshops will take place August 8, 9, & 11 at Tommy O's Playhouse, located on Hwy 51 South in Hazelhurst, WI.
April Leanna is a Board Certified Behavior Analyst, specializing in autism. She has extensive training, obtaining a Masters in Autism and Applied Behavior Analysis from Sage Graduate School, as well as 10 years of experience working with individuals with Autism and related disabilities. Local autism therapists, Jessica Riedy, Tiffany Quade, and Katherine Stuckemeyer will complete the autism specialist team. Tommy O's actors and educators will contribute their incredible talents, offering activities which introduce basic theatrical concepts. Local high school and community volunteers will offer assistance as well!
SOCIAL THEATER – Workshop participants will go behind the scenes to explore props and set design, costumes and make-up, lighting and sound, acting, music, and movement. Activities will encourage social interactions, communication, and emotional regulation. These activities can easily be adjusted to meet the needs of young people at all functioning levels by incorporating evidence-based teaching strategies!
At the end of the workshop, family and friends will be invited to watch a special presentation performed by the group! Families will be given information about teaching tools used during interACT, so they can apply them in their home or community! Participants will also go home with a ticket for The Mystery of Charlotte Kent, the summer children's show at Tommy O's Playhouse.
There will be talented professionals and volunteers assisting with all workshops; however, a support person must accompany any child with 1:1 needs.
To request registration info or to sponsor a workshop please contact autism@tommyosplayhouse.com or click here to download a registration form.
Call 715-356-0003 for more information.