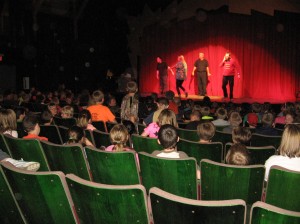 Spring 2017 Show Times will be Announced in February
One important goal of Tommy O's Playhouse is to provide educational opportunities to the community. This is our fifth successful year of building a kid's show performed at the playhouse for area schools. School kids enjoy a great field trip opportunity as their buses roll into the playhouse for the show. Who knows, maybe some of those same kids will be inspired to join in our summer camp, too!
Hey Teachers! Are you looking for a quick and easy field trip for your class this spring? Our theater can hold a lot of children, so there is still room. Our field trip is best suited to children in grades 2-6. The field trip includes a bag of popcorn to eat during the show, meeting the cast, a Q&A session after the show, a tour of the theater, and theater games – all for a low admission price of $5 per student. If you wish, kids can bring a bag lunch and eat it on our grounds. We have ample bus parking, too.
If your child's school is not scheduled to attend the show, please make sure your child's teacher knows about it! There is still room! Please contact Tom at 715-356-0003.