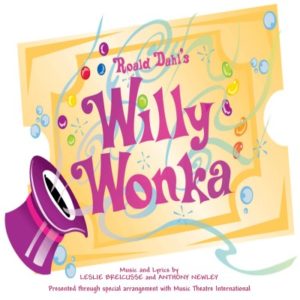 FAMILY SHOW:
Children $5, all other ages $10!
Tuesdays at 11:00 am
June 27, July 11, 18, 25,
August 1, 8, 15
Roald Dahl's timeless story of the world famous candy man and his quest to find an heir comes to chocolate-covered life. The delicious adventures experienced by Charlie Bucket on his visit to Willy Wonka's mysterious chocolate factory light up the stage in this captivating adaptation of Roald Dahl's fantastical tale. The enigmatic candy manufacturer, Willy Wonka, stages a contest by hiding golden tickets in five of his scrumptious candy bars. Whoever comes up with these tickets will win a free tour of the Wonka factory, as well as a lifetime supply of candy.
Featuring the enchanting songs from the 1971 film starring Gene Wilder plus additional songs by Leslie Bricusse (Jekyll & Hyde, Doctor Dolittle) and Anthony Newley, Roald Dahl's Willy Wonka is a scrumdidilyumptious musical guaranteed to delight everyone's sweet tooth. Prepare yourself for a fantasy ride into the land of pure imagination!