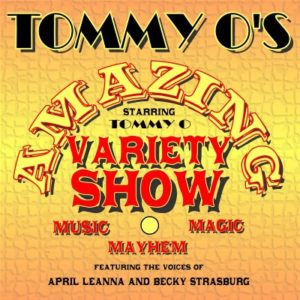 Evening (7:30 pm):
June 28, July 21, August 2
Matinee (2:00 pm):
July 23, August 3, 16
Get up and out of your seat with engaging lyrics, inspiring melodies, and rockin' rhythms. Be awed and thrilled by mysterious and amusing magic! And just immerse yourself in the general antics and mayhem taking place onstage. There is no end to the talents of Tommy O! Be ready to laugh, gasp, snap your fingers, and bounce to the beat in your chair. Special guest appearances by April Leanna and Becky Strasburg round out this talented family.