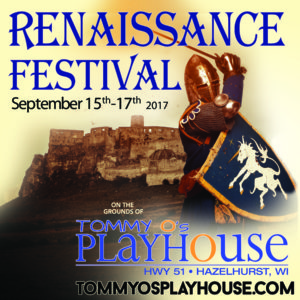 July 27,28,29 2018
Friday & Saturday from 10am-6pm
Sunday from 10am-4pm
Most Honored Guests,
Welcome to Great Woods of Cumberland County, England. The year is 1501 and Henry VII is still in power. We are moving out of the darkness of the Middle Ages and into rebirth (or "Renaissance"). This is a fantastical time of innovation, merriment and exploration of new continents.
Our fair Queen has invited the entire county for a festival to celebrate Her Royal birthday. She will entice you with a chess match where you are the game piece and the winner shall receive her personal token; those of a lower class may learn the proper etiquette for being in her presence and later enjoy tea with Her Majesty.
You may spot a lost dragon in the Woods or a festive bagpiper marching along a path towards the lively dancing Deborah. Visit the Village Encampment and behold A Life Medieval, learn blacksmithing, or stoke the fires of the cooking pit. Be ready to help judge the combat as the Villagers and Guardsmen test their abilities… but beware thieves and undesirables!
Wear your best finery and you may win our costume contest. Enjoy a day of feasting, frivolity, games, and wondrous handmade crafts and wares. There is fun for every member of the family.
Let the merriment begin! Huzzah!
Free parking. You may purchase tickets in advance at the Tommy O's Playhouse box office (715-356-0003) or at the gate.
Volunteers Needed for RenFest!
 
We are still looking for some extra hands to help us with this year's Renaissance Festival. It will be bigger and better, much better, than last year but we could really use your help. 
 
We prefer you work 4-hour time slots at a minimum, but we can work with you for less. Duties run from construction in the days leading up to the festival, set-up day on Wednesday, and tons of things we need during the faire, like parking, ticket booth, bartender, games and museum helpers.
There is no time to lose! For more information contact the RenFest team at 715-356-0003 or information@tommyosrenfest.com 
Community groups and individuals are encouraged to participate, providing food, wares, music, or your special Renaissance talent. If you or your group is interested, contact Tom Organiscak at 715-356-0003 or information@tommyosrenfest.com. Click on one of the links below for relevant forms and information.
Renaissance Festival Overview outlining Entertainment, Games, Food and Crafts that would be acceptable/desirable. If you have an idea that is not listed, send a suggestion to information@tommyosrenfest.com.
VENDORS – Click the following links: Vendor Guidelines and Festival Vendor Application Contract
ENTERTAINERS – Click the following links: Festival Entertainer & Performer Info, Festival Entertainer & Performers Contract and Form W-9