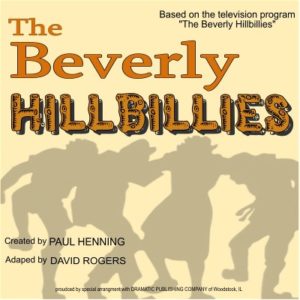 Evening (7:30 pm):
July 6, 12, August 3, 11, 16
Matinee (2:00 pm):
June 24, 28, July 19, August 8,19 
The Beverly Hillbillies is a classic American comedy series that originally aired for nine seasons from 1962 to 1971 and was the first television series to feature a "fish out of water" genre. The series was about the Clampett family. The Clampetts were simple folk: living off the land, they wanted nothing and asked for nothing. When Jed Clampett accidentally discovered oil on… his property, he and his family were instant millionaires. Deciding to move to Beverly Hills to take advantage of their new-found wealth, the Clampetts find that their down-to-earth lifestyle clashes with the new suburb and its shielded, upper-class inhabitants.