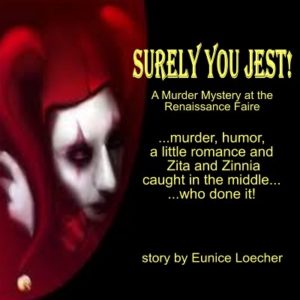 Evening (7:30 pm):
June 21,  July 14, 19
August 6, 7,
Matinee (2:00 pm):
June 27,  July 5, 15 August 1,
There has been a murder at the Renaissance Faire!
"SURELY YOU JEST"
This Original play by Eunice Lockard once again brings the charmingly colorful characters, Zita and Zinnia to the spotlight as an un-funny Jester sparks curiosity and intrigue…Of course they can't resist the temptation to…solve the mystery. Murder, humor, and a little romance…Don't miss this who done it!